GEOTEC Surveys Ltd successfully tendered for the Cardiff City Centre East and Newport Road Radar Survey in August / September 2019 with The City of Cardiff Council.
This related to a PAS 128 Underground Mapping Survey and was required as part of the design for a large drainage & roadway reconfiguration and upgrade project within multiple city centre roads and footpaths.
Survey works started on Monday 14th October 2019 following a pre-start meeting with the client, our appointed traffic management consultant and network management team.
A significant proportion of the works was undertaken during night time working hours and under external traffic management measures, planned, managed and arranged by GEOTEC, with the local network management team and our external traffic management consultant.
Due to the size and complexity of the survey, works were completed over 5 phases:
Phase 1: Stuttgarter Strasse, Park Place, Dumfries Place and Station Terrace.
Phase 2: Station Terrace, Guildford Street, Guildford Crescent, North Edward Street and Churchill Way.
Phase 3: North Street and Boulevard De Nantes.
Phase 4: Newport Road and Fitzalan Road.
Phase 5: Newport Road, Fitzalan Place, West Grove, Glossop Road and Four Elms Road.
We were provided with a 2D topographical survey for Phases 1-3 to overlay survey results onto and completed our own topographical survey with 3D levels for Phases 4 and 5.
Survey works began on Phase 1 on Monday 14th October 2019 and lasted 4 weeks, with all survey works taking place at night. We also used a week of traffic management measures to assist us in investigating manhole covers and tracing services within the roadways.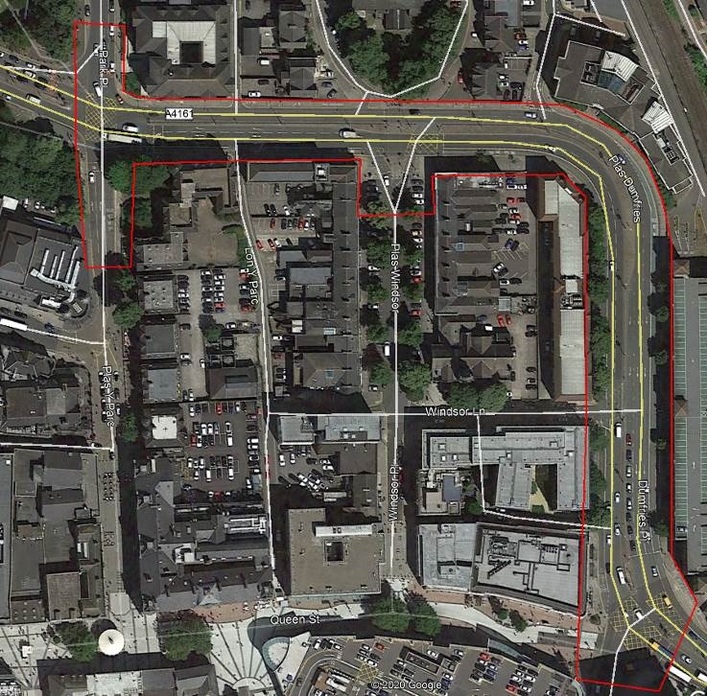 PHASE 1 – CARDIFF EAST RADAR SURVEY
Phase 3 started on Sunday 10th November 2020 and took place over 3.5 weeks (with traffic management over the course of 1x week). This phase was brought forward to start before Phase 2 as the client changed their priority order.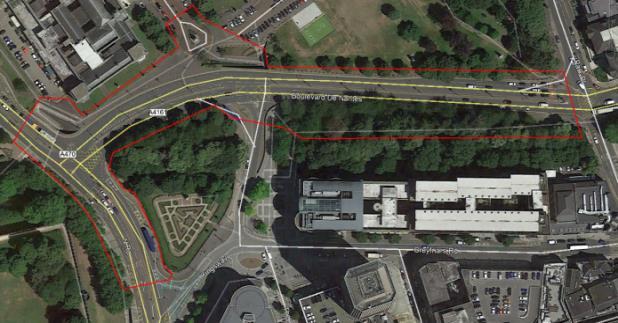 PHASE 3 – CARDIFF EAST RADAR SURVEY
Phase 2 started on Wednesday 4th December 2019 and was completed just before Christmas. Survey results were produced simultaneously (with survey staff swapping in and out to allow results production to take place) and preliminary survey results for Phases 1-3 were submitted on Monday 23rd December 2019.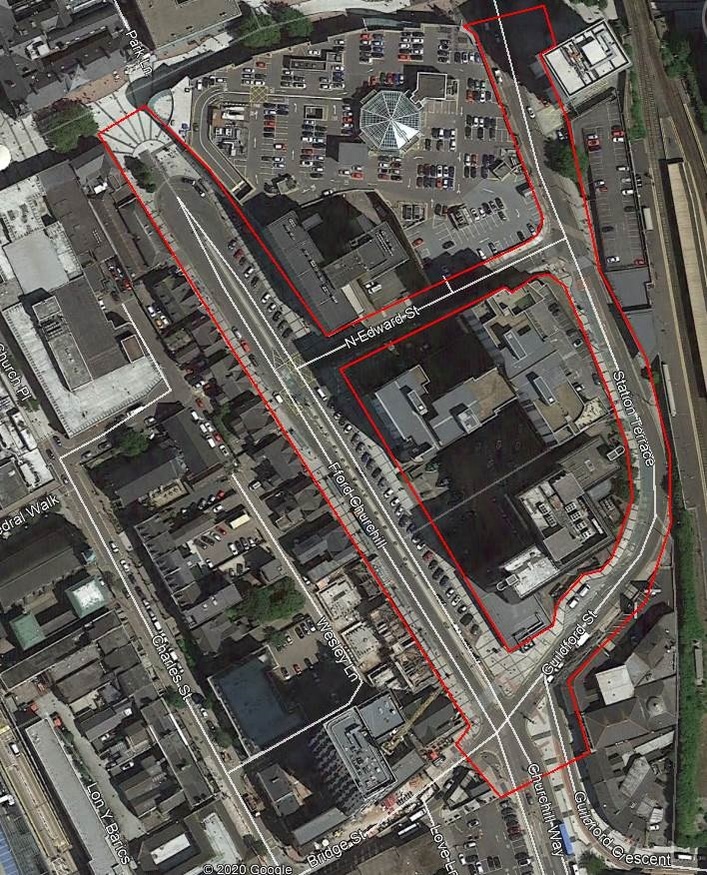 PHASE 2 – CARDIFF EAST RADAR SURVEY
Phase 4 started in January 2020 and was completed using a mixture of a 2 and 4-man survey teams over the course of 5 day and 5 night shifts onsite. The footpaths were surveyed during the day (over reduced hours of 0930-1500) due to the volume and congestion of pedestrians.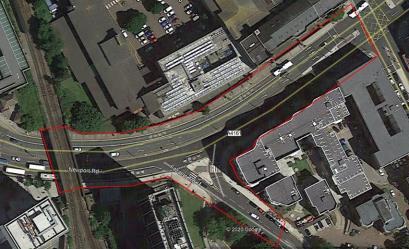 PHASE 4 – CARDIFF EAST RADAR SURVEY
The remainder of the surveying of the footways and the roadways were completed with externally procured traffic management measures over the course of the 5 nights, with security also in attendance to protect staff and equipment from theft and anti-social behaviour.
Phase 5, below, was completed over the course of 15 day and 17 night shifts onsite with a predominantly 3-man survey team, with external traffic management measures employed over the course of 10 shifts and security for 21 shifts. The topographical survey and utility mapping was carried out simultaneously for both Phases.

PHASE 5 – CARDIFF EAST RADAR SURVEY
Each Phase was surveyed in line with the below approach, which in turn were divided into sections:
Lift/investigate manhole covers, valves and gullies within the footpaths and trace services directly as required and this approach did not impact upon traffic, including the collection of GPR data within the footways only.
Liaise with our Traffic Management Consultant to gain access to the live carriageways (at night), by way of lane closures to lift/investigate manhole covers, valves and gullies within the roads and trace services directly as required.
We worked very closely with our TM consultant and the Network Management team to gain approvals and permissions for the TM measure put in place, which consisted of 2 to 4-way lights and lane closures in hours when the bus lane was not operation (after 23:30).
Complete a rapid GPR survey, using a vehicle-mounted system on the roadways during night time working hours.
The most appropriate way to cause as little disruption as possible, whilst still meeting the specification and scope of the PAS 128 survey was to reduce the TM required by use of such a vehicle mounted, 18 channel multi-array, GPR system that was towed from the rear of a Citroen Berlingo van on all roadways.
This was carried out during night time working hours and the van in question had TM markings (e.g. chevrons, highway maintenance sticker & flashing beacons).
In addition, an escort van was also driven behind the surveying vehicle for protection and data was collected at the same speed as traffic using each particular roadway.

VEHICLE MOUNTED GPR SYSTEM USED
The GPR is fitted with a GPS mushroom so that data collected was automatically and accurately recorded, which also reduced the volume of additional topographical survey work required.
The GPR data collected for the roads and the footpaths were integral in allowing us to upgrade Quality Levels from B2P to B1P and also detected the presence of a subsurface canal running beneath Churchill Way (in Phase 2).
We also procured the necessary, up to date Statutory Undertakers' Records to assist us with our onsite survey works and for comparison and evaluation when producing results and allocating Quality Levels to.
The below image is an extract taken from our survey results which clearly shows this feature (in grey), against other GPR anomalies (in turquoise).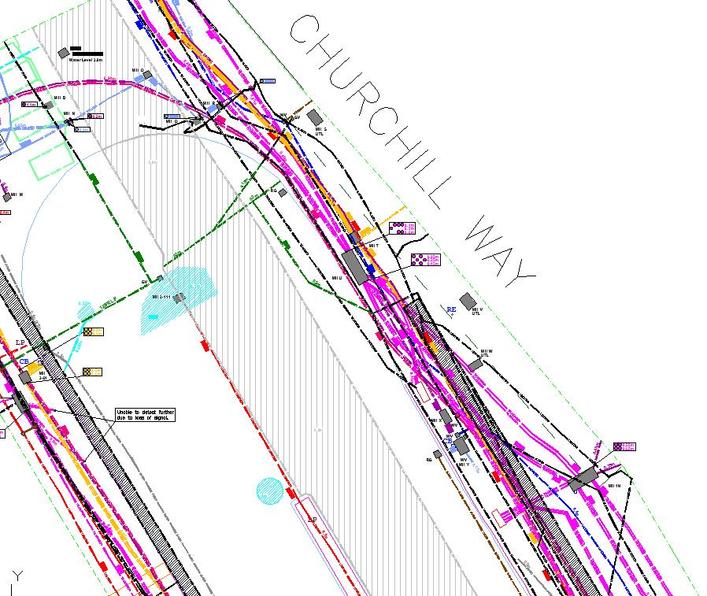 EXAMPLE OF SURVEY RESULTS FOR CHURCHILL WAY
This is also visible within the raw GPR data as shown below: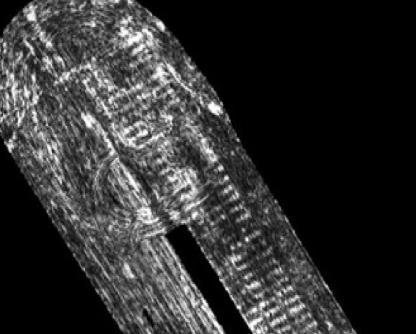 EXAMPLE OF RADAR DATA FOR CHURCHILL WAY
This data corroborates with an old photograph showing the construction of the culvert itself.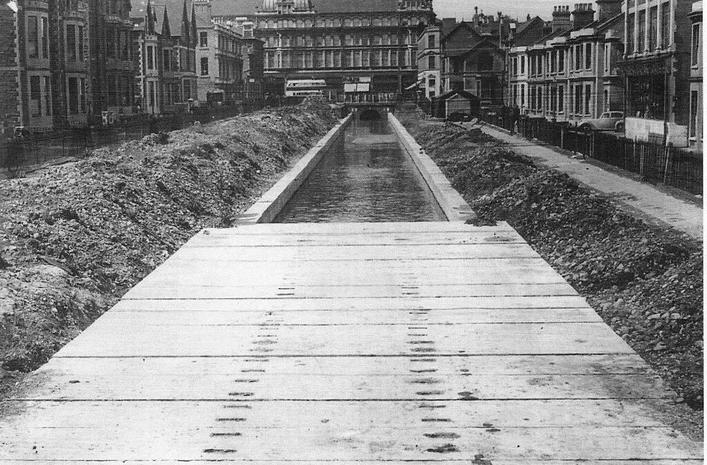 HISTORICAL PHOTO INDICATING CONSTRUCTION OF THE CANAL
The below extract, illustrates the congested nature of the site, as taken from Phase 4 (following GPR data evaluation). This clearly demonstrates the following:
The combined sewer and electric service highlighted in black are taken from statutory undertakers records (as these were not detected onsite).
There are a number of linear GPR targets (in turquoise) which were successfully detected using the vehicle mounted GPR system but not using EML (hence their B2P score).
A large number of services were detected to a quality score of B1P, which indicates that they were detected with both EML and the GPR, which demonstrates that this survey was completed to a comprehensive level.
The duct layouts show that each chamber has a number of ducts, which also show that some are empty, at a variety of depths.
There are a number of metallic features and power features that were only detected using EML in passive modes (i.e. no access from manhole chambers or data relating to them from the GPR). This is demonstrated by a score of B2P being allocated to them.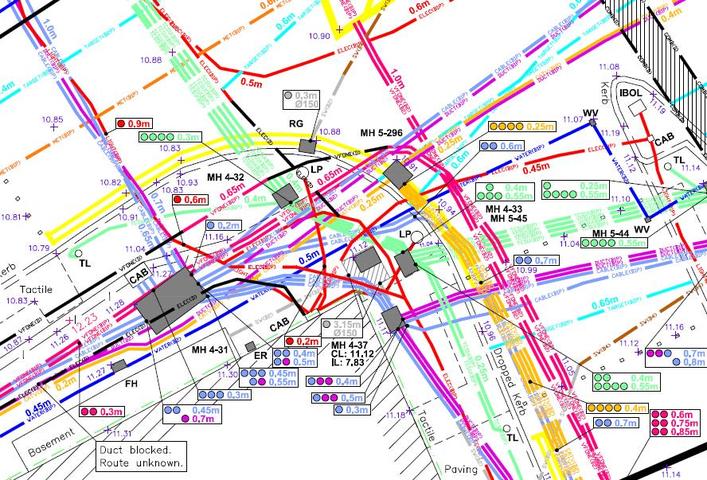 EXAMPLE OF SURVEY RESULTS
This extract is taken from a junction further from Phase 5 and whilst the congested nature of the site decreased slightly as the survey moved further away from the city centre, there was still a significant volume of services, within the survey area.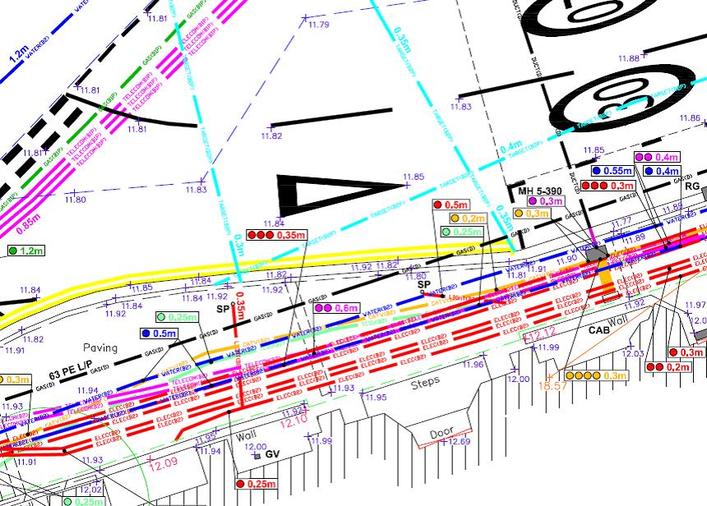 EXAMPLE OF SURVEY RESULTS
Each manhole is also referenced and an accompanying manhole photograph pack has been submitted, which also offers the client more information than they would normally have had in regards to each service.

EXTRACT FROM MANHOLE SCHEDULE
This data allows the client to understand the confidence levels that can be placed on each utility's position and depth to allow them to design the new drainage system with a more anecdotal level of knowledge with regards to the existing utilities.
The image below illustrates the processed GPR data which is evaluated in order to provide a PAS 128 Quality Score of B1P or B2P to any given service, which can also be displayed in line with Google Earth (taken from Phase 3). This clearly shows a number of services criss-crossing the road.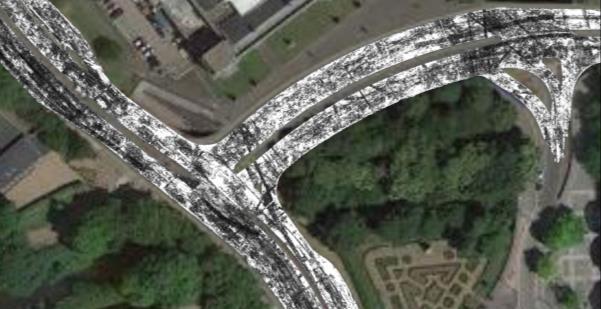 EXAMPLE OF GPR DATA OVERLAID INTO GOOGLE EARTH
This significant undertaking represents a substantial piece of work, which demonstrates the client's approach to forward planning. This ensures that risk is reduced at design stage and assists the client in planning the project so that all known risks can be mitigated against at the earliest opportunity.