London Borough of Lambeth approached GEOTEC Surveys Ltd to undertake a PAS128 Underground Utility Mapping / GPR Survey to support the design of a footway buildout and installation of a Copenhagen style crossing in Mepham Street, London.
Mepham Street is located just outside London Waterloo Railway Station and links York Road with Waterloo Road as shown below. This is a one-way street with an active bus route, which taxis also use. The Hole in the Wall Public House is also located on this street, which is popular with commuters.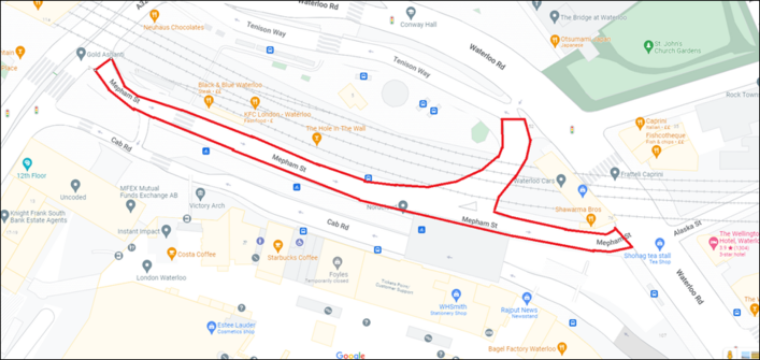 The purpose of the survey was to detect and map the routes, types and depths of buried services and utilities within the survey extent.
The original survey area included the bus stop and bus stands and consisted of a specialist bus route, so diversions were discussed with our Traffic Management Consultant.
We put forward 2x options to the client (1) a full diversion including bus stop / stand suspension and bus route alteration and (2) a lane closure. Although the road was a single lane one-way route, there was enough space to be able to manoeuvre vehicles safely around our works), however the bus stop and stand still required suspension and possible bus route alteration.
Following discussions with the client, the survey area was reduced to incorporate the below, which eliminated the requirement to suspend the bus stand and bus stop, whilst the bus route was also allowed to remain open; the local authority / TfL were happy for the lane to be reduced in width so traffic could still flow.

SURVEY AREA (GREEN SHADED AREAS)
We then worked with our Traffic Management Consultant who applied for the relevant permissions to allow us to commence the required survey works. The client kindly arranged for the loading bay & parking bay suspension.
Whilst the survey areas themselves were not substantial, we had to ensure that we had enough road space available to us to be able to safely investigate manholes, inspection chambers, valves, gullies and other access points, outside the immediate areas of interest so that we could trace services which crossed or entered the survey area in question.
Night 1 (Monday 28th November 2022) saw an eventful start whereby the team were unable to commence survey works from 8pm due to a demonstration / celebration taking place as part of the Albanian day of Independence, which resulted in difficulties getting to site and concern for safety due to the high number of people in the area. Following dialogue between our lead surveyor and our third-party security consultant, the decision was made to start works at 9:30pm.
The team decided to survey the larger of the 2x areas on night 1, with the junction with Waterloo Road. The smaller survey area was therefore completed on night 2 (Tuesday 29th November), whilst the team also had to work around people movement associated with the England v Wales World Cup 2022 final group game.
A third party security presence allowed survey works to take place safely and without incident over the course of these 2x eventful nights.
Most of the services were detected with a Quality Level of B1 which indicates that Radio Frequency Detection (EML) AND Ground Penetrating Radar (GPR) have detected these services on both the horizontal and vertical planes. Some services were detected using only one of the above techniques and shown with a score of B2, whilst a small number of services were not detected in the position that they were expected to be detected or with enough confidence (as shown in black and taken from Statutory Records).
The below extract relates to our survey results for the smaller area. We detected a large subsurface anomaly running along the full length of the area (shown by the turquoise hatching) as well as a section of reinforcing (shown by purple hatching), which could relate to a subsurface trench or possibly a sewer / culvert run. This does not appear within the larger survey area.
This thin section of carriageway also includes water (the majority of which has been detected, several telecommunication routes, power and a combined drainage run. There is also another telecoms route which we have not detected and displayed as "taken from statutory records").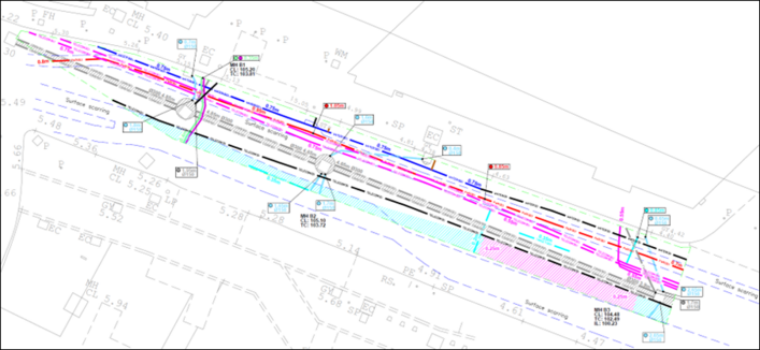 SURVEY RESULTS EXTRACT (SMALLER AREA)
An extract of the larger survey area is shown below, relating to the junction with Waterloo Road. This shows that there are several telecommunications services which cross the road, as well as a significant number of power carrying targets, which may relate the presence of a nearby substation.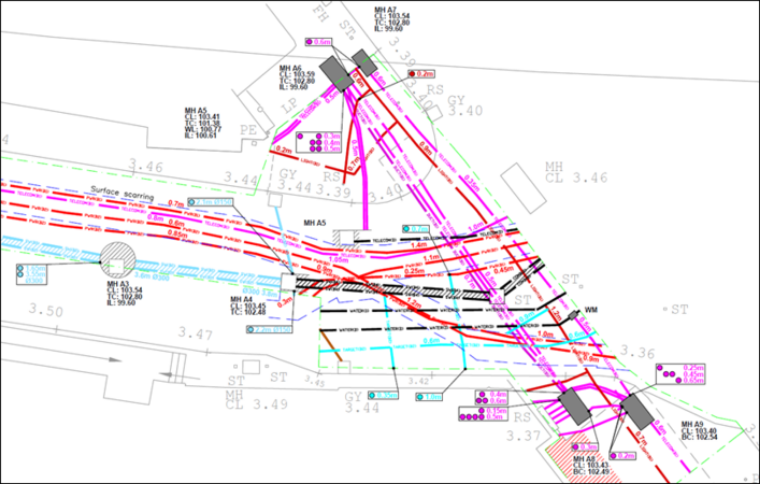 SURVEY RESULTS EXTRACT (LARGER AREA)
Our survey results were submitted following a period of data post processing, interpretation and AutoCAD drafting digital production by the lead surveyor, who physically attended site to carry out the survey. Survey results were then checked in accordance with our ISO9001 proofing procedures by our survey manager prior to their release to the client.
On receipt of our submission of results to the client, they were kind enough to complete our Project Completion Questionnaire as below:
How would you rate our response to your enquiry?
Excellent (x)
How would you rate our written quotation/submission and our understanding of your needs?
Excellent (x)
How would you rate our attendance and performance of our survey team on site?
Excellent (x)
How would you rate our health and safety procedures, including RAMS and site behaviour?
Excellent (x)
How would you rate the presentation and clarity of the final survey results?
Excellent (x)