GEOTEC Surveys Ltd has scored 100% on our Achilles UVDB Verify Audit.  
Achilles UVDB manage the pre-qualification supplier function for the Utilities Sector, with 65 buyers including National Grid, SSE, UK Power Networks, Thames Water and United Utilities. 
A 100% score means that GEOTEC will appear as a Green Supplier on the UVDB Portal and buyers will be able to see that GEOTEC meet and surpass the standards required to provide services to their Industry. 
This allows GEOTEC to continue to support our clients in the Energy & Water Sector, providing invaluable Utility Mapping and GPR Surveys. 
The Achilles Accreditation Certificate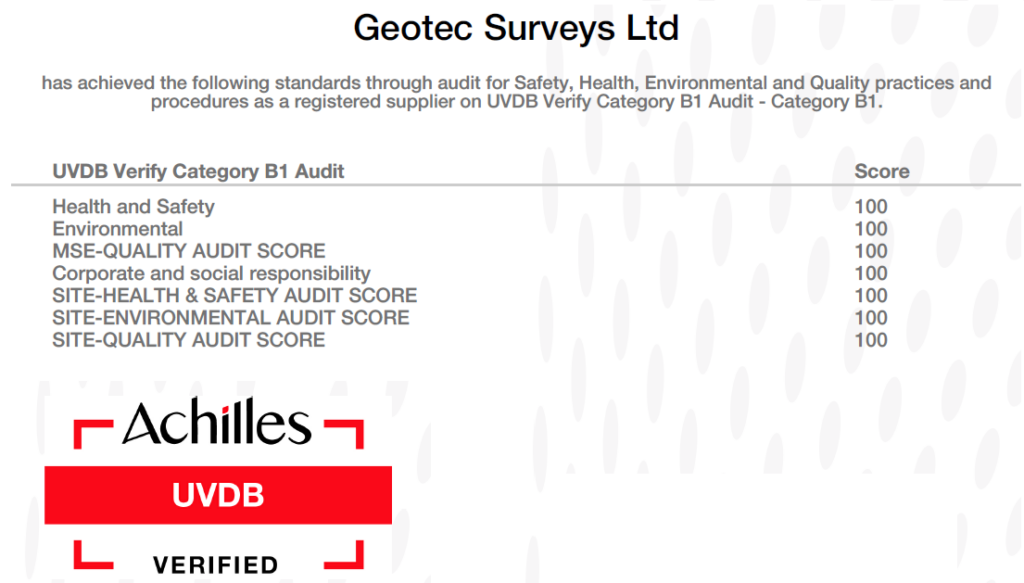 The Achilles UVDB Audit
The Audit assessed both our Office Management Systems and our Onsite Activities, whereby our survey team, who were working at a Food Factory in Stevenage, were also evaluated. 
The Audit covered:
Health & Safety 
Environment
Quality 
CSR 
GEOTEC Surveys Ltd have completed numerous Underground Mapping Surveys to date in 2023 within the Utilities Sector including as part of the following projects or sites:
1x Reservoir 
1x Power Station 
1x Former Gas Works 
4x Large Cable Route Projects 
5x Sewage / Waste Treatment Works Sites 
10x Substations 
To work at each of these high-risk locations, our multi-disciplined survey teams require different skills and Industry specific training and have an abundance of experience to safely work within these environments. 
We have provided marking out surveys and service clearance works at a National Grid Substation site and as part of the large power cable installation projects, working ahead of the digging crew. 
Full PAS 128 Underground Mapping Surveys for buried services and utilities, as well as Topographical Surveys, including 3D Laser Scanning, have been completed for many of the substation sites. 
The Former Gas Works Site was surveyed for voids, subsurface obstructions, and other such features using an Electromagnetic CMD Explorer, with the aim of the survey to inform additional and future survey specifications. 
If you work in the Utilities Sector and have a requirement for non-invasive Underground Mapping Survey works, please contact us using the Contact Forms, by emailing enq@geotecsurveys.com or calling 01428 686168.