GEOTEC Surveys successfully pass Achilles UVDB Verify Audit. This allows us to continue to provide Underground Mapping / GPR Surveys to customers within the Energy Sector within Substations, Power Stations and on Pylon runs.
Our audit took place on Thursday 23rd June 2022 and our auditor met with us onsite at University of Surrey to run through how our Management Systems are demonstrated in real life.
We then returned to our Head Office near Godalming to complete the desktop Management System aspect of the audit and were able to obtain the below scores: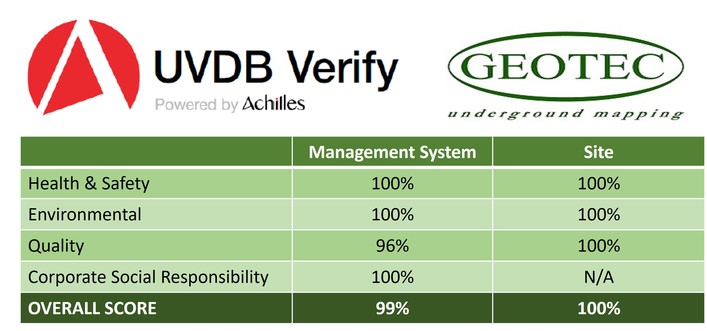 We continue to achieve high scores year after year, whilst the standards that we need to keep improve each year as the audit itself improves and becomes more difficult.
By achieving these high scores, we also demonstrate to our clients the same approach when carrying out high quality Underground Mapping Surveys for them, in a range of high risk environments.