Each month we shall be answering the most common questions that we are asked by our clients. #2 – How much is that likely to be?
The fees associated with the provision of our Underground Mapping Surveys depend on a number of factors, as discussed below:
Objective & type of survey
The most common surveys we carry out are for the detection and mapping of buried services and utilities (PAS 128) using EML and GPR, which is the primary focus of the business. i.e. Utility Mapping Surveys
We also detect and map other subsurface features using Ground Penetrating Radar (GPR) and other Geophysical Survey techniques. Use of specialist radar systems and geophysical tools can have an impact on our fee.
Size of survey and therefore how long it is likely to take
We offer quotations on a site by site basis based on a) how long we are likely to be onsite b) resource required and c) results production time
Each site is different and varies in terms of congestion of buried services and utilities. As such, we are not able to provide a cost per square metre in many instances.
Is a topographical survey available?
We can also provide a range of topographical survey outputs as part of the above, however in many instances, the client has an existing topographical survey available for us to overlay our results onto.
If this is not the case then we can tailor the level of topographical survey required to meet our client's needs, including 3D laser scanning.
Traffic Management
Whilst we have NRSWA Streetworks trained surveyors, the majority of safety measures requires permission from the local authority to implement (which takes 2-3 weeks to arrange). We can use our own short duration, mobile, traffic management measures in some cases, however the appropriateness of this requires review.
If external Traffic Management measures are required then this has a significant impact upon our quotation, as these fees need to be factored in.
In some instances we shall look to use a vehicle mounted GPR system. This saves a significant amount of time onsite and can reduce or eliminate the need for Traffic Management.

EXAMPLE OF OUR VEHICLE MOUNTED GPR SET UP
Night Work
This goes hand in hand with the Traffic Management requirements and can also relate to sites such as car parks or the railway. Surveys which require out of hours or night-time working command a higher fee.
Weekends
If you have an urgent survey requirement then we can usually source a survey team to work on a weekend, however this commands an additional fee.
Personnel Required
Our survey staff are multi-disciplinary and as such are all trained, to a high standard, to use Radio Frequency Detection, Ground Penetrating Radar and Topographical Survey techniques. Some of our team are more experienced than others and some survey environments & specifications may require more experienced or differently trained staff.
Some sites need specialist training, such as within Substations, Water Treatment Sites, Highways or on the Railway and as such the correctly trained members of staff will be required. This can have an impact upon our fees.
The Output – we predominantly provide an AutoCAD DWG and PDF drawing as output
In the vast majority of cases we provide our clients with a 2D AutoCAD & PDF output displaying our survey results as per the below example: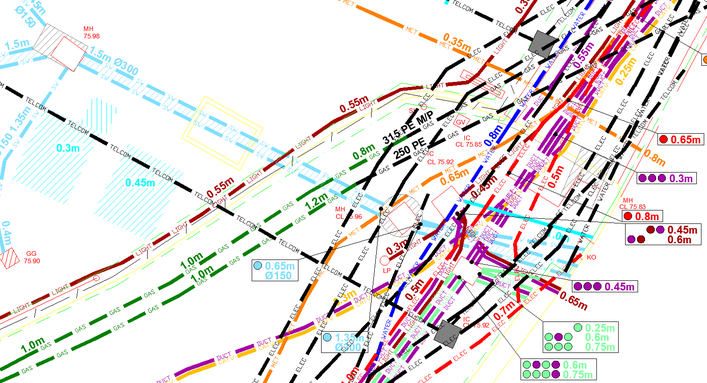 EXAMPLE OF A RECENT SURVEY AT A FORMER PETROL STATION AND CAR GARAGE
On occasion, some clients do not require a drawing as an output and as such we would attend site and mark any findings onto the ground surface in spray paint.
We can also provide results with varying levels of 3D data, example also included below: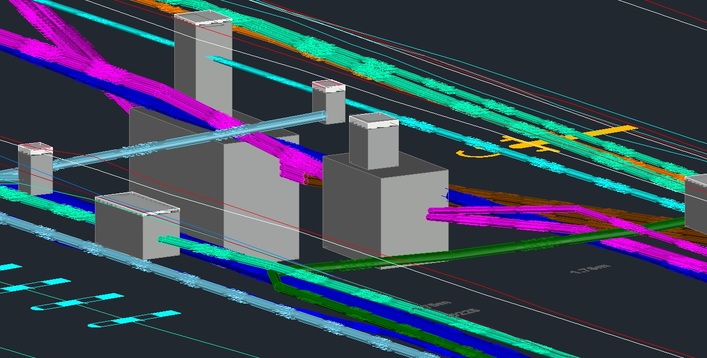 EXAMPLE OF 3D DATA OUTPUT